Pictures and comments from some of my clients over the years . . .
Cyril and Jean Turner (South Yorkshire) - Jan 2023 " My wife and I have been to The Gambia four times and always had Modou as our bird guide, he has always turned up on time and is one of the most trustworthy people I have ever met. If anybody is going to Gambia on a birdwatching holiday they can't go far wrong by booking Modou Barry. A fantastic bird Guide, he is based in the Combo Beach Hotel. "
| | |
| --- | --- |
| | |
| | |
| | |
| --- | --- |
| | |
| Modou and Jean at Lamin Lodge | Red-bellied Paradise Flycatcher |
Chris Bond (Kent) - Feb 2022 "I recently had a holiday in The Gambia and went out on a couple of birding excursions with Modou Barry. He took me around Kotu Creek, Bonto and Farasutu Forest. I found him to be a pleasant guy and a very capable guide and birder."
| | | |
| --- | --- | --- |
| | | |
| | | |
Cyril Turner (South Yorkshire) - 2022 " We went on around 4 or 5 half-day trips bird watching and then a 2 days-1 night trip to Georgetown. Both me and my wife are in our twilight years and we were looked after very well by Barry. One of the best moments I had on a trip was when I got no less than 20 different species of bird on camera for the first time. Another was on the Georgetown trip where we were on a boat and we got to see chimpanzees, red and black colobus monkeys, hippos and what I found to be the personal highlight: a finfoot! Overall, we had a fantastic time on these tours and would highly recommend anyone to go with Barry."
| | |
| --- | --- |
| | |
| Exclamatory Paradise Whydah | |
| | |
| --- | --- |
| | |
| | |
Diane Daniels and Phil Scott (Kent) - 2022 " My husband and I took a trip to The Gambia in February and pre-booked Modou by email for 2 days birding. We explained we had been to The Gambia many times before but not since 2008, and that we were experienced birders. My husband was awaiting a hip replacement operation and so we explained to Modou that his mobility would be limited. Modou asked us about our target birds to see and that the trips would be organised at our pace and meet our needs.
Modou lived up to his word, and made sure there were places to rest and sit, and places where we could birdwatch from the vehicle. We visited places we had never been before and saw our target birds including, owls, raptors, nightjar (very close views) and Violet Turaco. Modou is an excellent guide, he has a vast knowledge regarding birds, the best places to spot them, he is polite, helpful, and has a good sense of humour. His drivers were equally friendly and enthusiastic. We would recommend highly Modou, the perfect bird guide."
| | |
| --- | --- |
| | |
| | |
| | | |
| --- | --- | --- |
| | | |
| | | |
Rob and Jean Clark (UK) - 2019 " We thoroughly enjoyed our birding trips again this year (Dec 2019) and had some fantastic views of some lovely birds. We're always impressed as to how Modou seeks the birds out and calls them in. He's such a patient and humble guide, in our opinion one of the best. Looking forward to our next visit. Thank you Modou. " (photos: Rob & Jean)
| | | |
| --- | --- | --- |
| | | |
| | | |
| | | |
| --- | --- | --- |
| | | |
| | | |
Sally and Roger Peyton (Suffolk) - 2013 " We returned to Kombo Beach hotel last week for the third year running. Our main intention was to go to some of the lovely birding sites The Gambia has to offer. Once again, we used Modou Barry, who is based at the hotel, as our guide. Modou has arranged many trips for us over our 3 years in Gambia and we have never been disappointed. Last year we managed to notch up 146 different birds in one week and this year we managed 138 (some of them new to us). We would recommend Lamin Lodge, if you haven't been; this is never without adventure! (photos: Sally & Roger)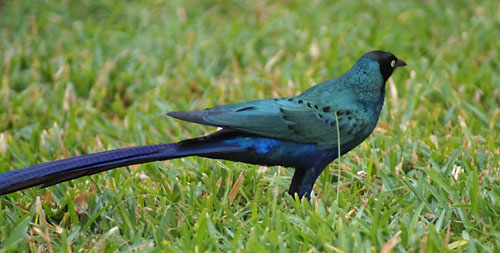 Modou is a very professional, reliable, unassuming guide who is always polite and friendly and certainly knows his stuff. He won't give up until you have seen whatever he can see hiding deep "in that tree". He can always arrange a driver and if you tell him what it is you would like to see, he will do his utmost to take you to the right place. After our first year in Gambia we have e-mailed Modou to tell him when we are coming and he looks out for us. We would thoroughly recommend Modou and look forward to seeing him again next year. "
| | |
| --- | --- |
| | |
| | |
Ian Traynor (York, UK) - 2013 " On a week's trip to The Gambia in February / March 2013, Modou came out with me on two separate days. I'm a nature photographer, and Modou was very accommodating, matching his pace with mine. I'm familiar with many Gambian birds, but not too good at spotting them, especially in the forest. Modou's eyesight is amazing, and I would have missed many species if it hadn't been for him. He is a thoughtful, and incredibly talented guide, and I will have no hesitation in going out with him again when I return to The Gambia, hopefully next year. " (photos: Ian Traynor, York, UK)
| | |
| --- | --- |
| | |
| | |
| | |
| Golden Oriole | |
Janet and Ted Bloomfield (UK) - 2013 " My husband and I recently visited Gambia on a bird watching holiday and we were lucky enough to have Modou Barry as our guide. It was the best bird watching we have ever done and this was due to the expert knowledge and guidance from Modou. We are elderly and he considered our welfare and needs throughout the holiday. Thank you Modou. We hope to return to Gambia and are confident that the arrangements that Modou will make for us to go further inland will be perfect. " (photos: Janet & Ted)
| | |
| --- | --- |
| | |
| | |
Beryl and Peter Butterworth (UK) - 2013 " Modou took us out for the morning of January 20th. I would like to say he was very good at identifying the birds I would certainly recommend him. We saw Blue Bellied Roller, Malachite Kingfisher, Hammerkop and Black Egret amongst many others. Modou was a good keen bird watcher and ID was very exellent and he made sure we could see the birds.Time well spent. "
Jim and Annette Wilson (UK) - 2009
"Arrived in The Gambia having read up on birdwatching, and were expecting great things - we weren't disappointed!! The best of the birdwatching tours we signed up for wasn't one of the holiday company's organised excursions (we did 4 in total), however.

We were delighted with a tour that the local guide from Kombo Beach Hotel in Kotu where we stayed took us on. He's a guy called Modou Barry and if you see his name advertising birdwatching trips when you visit The Gambia then he comes highly commended.
| | | |
| --- | --- | --- |
| | | |
| | | |
We set off at 7:30 am for the local "hotspots" including Kotu Creek, the ponds and the rice paddies, and spotted a total of 52 species, some of which were quite spectacular. Luckily for us we had Modou to ourselves so we were able to take a leisurely pace and Modou's excellent spotting and knowledge of the local birds made for a very enjoyable 4 hours or so at very good value."
| | | |
| --- | --- | --- |
| | | |
| | | |
William Edmond and George Murray Gladstone (Scotland) - 2009
" Under the guidance of local guide Modou Barry, our birding trip to The Gambia was off to a great start, he has such a wealth of knowledge and understanding of bird behaviour, it added so much more to our trip than we anticipated. A delightful experience, his extensive experience and knowledge in the field always shone through.
He is a valuable resource for anyone who is considering a birding trip to The Gambia, from organising transport, entrance fees to Nature Reserves and food. Last of all, also trying to make sure of finding that most special bird that you wanted to see while in The Gambia.
The thing that impressed us most about Modou is that he is a real dedicated birder, his enthusiasm and dedication through the week was so much so that we managed to see over 160 species of birds. Appointment times were greatly respected and prices were relatively reasonable. We would not hesitate in recommending Modou to any person thinking of a visit to The Gambia for Bird Watching."